Shopping Cart
Your Cart is Empty
There was an error with PayPal
Click here to try again
Thank you for your business!
You should be receiving an order confirmation from Paypal shortly.
Exit Shopping Cart
Providing Services Dedicated to Health and Wellbeing
| | |
| --- | --- |
| Posted on September 28, 2015 at 9:40 PM | |
    This is the second blog in the series of helpful herbs from A to Z, but first let's begin with a disclaimer. The information provided in these blogs is not intended to replace professional health advice in any way. All information should only be used under direct supervision of a qualified health practitioner. Do not use essential oils on broken or sensitive skin and always use extreme caution with herbs and essential oils when pregnant or if you have a medical condition.
      "Let food be thy medicine and medicine be thy food." - Hippocrates
This is a well-known quote and if you look deeper into your food choices you can see the wisdom behind it. With this in mind let's look at some easily available Western, Chinese, and Ayurvedic plants and herbs (that begin with the letter B) that have healing effects on the body.
Western Herb Basil (ocimum basilieum)
Parts used are the leaves and seeds.
Biochemical components - rich in an essential oil called estragol. This is comprised primarily of methychavicol. Also contain sponins, tannins, flavonoids, calcium, magnesium, potassium, iron, vitamin A, C, K, copper, and omega 3 fats. Basil is wound healing, antispasmodic, anti fungal, anti-bacterial, and has wound healing properties. This herb is also great as a digestive tonic, helping to ease constipation, stomach cramps and gas. Provides relief for coughs and flu because of its antibacterial properties. This is an easily obtained herb with numerous medicinal properties; eyes, lungs, kidneys, digestive, skin, immune system, headaches, stress reliever and more!
Topical uses - essential oil can be applied in a skin care product or diluted in carrier oil. Fresh leaves can be applied in a poultice for wound healing. The Essential oil can be applied to the temples to relieve headaches.
Internal uses - Can be eaten fresh in salads, pasta or with tomatoes and balsamic vinegar. To take as an infusion pour 1/4cup of boiling water over 2 tsp of dried leaves and steep for 10 minutes. Drink 1 cup of this infusion 2 times a day for 8 days. For inhalation, to help with head colds and sinus issues, pour boiling water over fresh leaves. Put a towel over your head and the steaming pot and inhale the steam.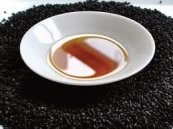 Chinese herb - Black Sesame Seeds (Sesamum indicum)
Parts used are the seeds
Biochemical components - manganese, calcium, magnesium, iron, zinc, phosphorus, vitamin B1, amino acids, selenium, fiber, sesamin, sesamolin (lignans), phytic acid, oleic acid, and phytosterols. These things make black sesame seeds great at counteracting free radical damage, lowering blood cholesterol levels, helping to detoxify the body, and serve as a neuroprotective.
Topical uses - as an organic oil on hair and skin or in a skin care product.
Internal uses - seeds can be added to salads, smoothies or taken as oil.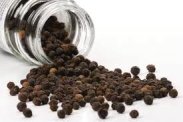 Ayurvedic herb - Black Pepper (Piper Nigrum)
Parts used the flower (peppercorn)
Biochemical components - lignans, alkaloids, flavnoids, sabinene, pinene, phellndrene, linaloo, and limonene, chavicine and piperine. Black pepper is a broad spectrum antimicrobial, analgesic, and anti-inflammatory. It protects the liver, prevents depletion of glutathione (this is an important molecule produce by your body that is essential for the body to stay healthy, prevent aging, cancer, heart disease, dementia and more) and increases the absorption of other foods and herbs.
Topical uses - diluted in carrier oil or a skin care product. I use organic black pepper essential oil in an herbal muscle rub I make for topical pain relief.
Internal uses - whole or organic pepper corns or powdered in all foods, or you can put into whole milk with honey as a tonic. Taken as a capsule in trikatu powder which is 3 spices; ginger, black pepper, and Indian long pepper to stimulate digestive and metabolic functions in the body. Black pepper taken with turmeric increased the bioavailability by 154% and reduced the time for the body to absorb and utilize the health benefits by half. Turmeric is a panacea of health benefits that we will get to at a later date, but the ability for the body to absorb its many uses can only be achieved through black pepper.
     Thank you for reading and I hope any of this information was helpful to you in your life. These are three great, easily incorporated herbs for your body's health and wellness. Check back next week for three more helpful herbs that begin with the letter C.
Resources:  Open Access Scientific Reports, Chemical Composition, Nutritional, Medicinal, and Functional Properties of Black Pepper: A review Murlidhar Meghwal and TK Goswanni
The Way of Ayurvedic Herbs, Karta Purkj Singh Khalsa and Michael Tierra
The Way of Chines Herbs, Michael Tierra L.A.C., O.M.D.
The Complete Guide to Natural Healing, International Masters Publishers
Categories: Health and Wellness, Skin Health-inside and out
/