Shopping Cart
Your Cart is Empty
There was an error with PayPal
Click here to try again
Thank you for your business!
You should be receiving an order confirmation from Paypal shortly.
Exit Shopping Cart
Providing Services Dedicated to Health and Wellbeing
| | |
| --- | --- |
| Posted on July 8, 2013 at 8:33 PM | |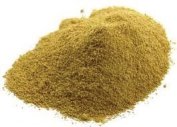 The herb we are talking about today is called Triphala.  This is another herb out of India used in Ayurvedic medicine that is comprised of three fruits (Harada, Amla, Bihara).  Triphala is often considered a panacea because it can be helpful to the body in so many ways.  It can improve digestion, reduce serum cholesterol, improve circulation, is good for your heart, liver, eyes, and blood pressure, and has antiviral and anti-inflammatory properties which are helpful in arthritis and other diseases in the body where inflammation is present. .  Triphala is great for constipation as it helps to stimulate bile flow and gentle peristalsis, making it safer on your system then some commercial laxatives.  This herb is high in polyphenols and flavonoids which are know to have anti-inflammatory and anti-cancer properties (1, 2).  
    Amala, or Emblica officinalis , part of the three fruits that make up Triphala is very high in vitamin C; 20 times more than the vitamin C content of an orange. This herb also contains tannins, alkaloids, phenolic compounds, amino acids, carbohydrates, gallic acid and more.  Harada, or Terminalia Chebula, contain laxative, astringent, lubricant, antispasmodic and nervine  properties.  Bihara, also known as Vibhitaki and Bibhitaki, is known as a blood purifier with anti-viral and anti-bacterial properties. The three fruits together form a synergistic effect that is good for whole body tonifing.(3).
      If there was one herb that I couldn't live without it would defiantly be this one!  Some of the wonderful side effects of this herb include: glowing skin (4)  (probably due in part to the high vitamin C and antioxidant properties, and wound healing abilities) improved eyesight (5), weight loss (6) and a natural pain free laxative (7).
     This truly is a do it all herb!  Because this is a detoxifying cleansing herb you may experience some mild side effects when starting it. If you notice a rash, a headache, stomach upset and or diarrhea when taking Triphala, try cutting back on the amount you are taking daily. We have not experienced any of the above mentioned issues when taking this herb but everyone is different and responds differently.  Contraindications for taking Triphala can be diarrhea and dysentery; use caution if you are taking this herb during pregnancy.  If you are taking blood thinning medications be careful as Triphla may affect platelet function.  As always consult your physician before taking any herbs with medications to ensure they are safe to use together. I would recommend finding an organic source of Triphala. Banyan Botanicals is one source my family and I use and trust. We have very sensitive systems and have always had great responses to the herbs provided by this company.
    Hope this information was helpful!  Please return next week when we will talk about some wonderful Western herbs we use in our family.
References:
Categories: Health and Wellness
/