Shopping Cart
Your Cart is Empty
There was an error with PayPal
Click here to try again
Thank you for your business!
You should be receiving an order confirmation from Paypal shortly.
Exit Shopping Cart
Providing Services Dedicated to Health and Wellbeing
| | |
| --- | --- |
| Posted on January 31, 2016 at 10:57 PM | |
      Today's blog is on helpful herbs that start with the letter P. These are for educational purposes only. The information is not intended to treat or diagnosis anything. Please check with your physician before taking any herbs or herbal formulas and use extreme caution if you are pregnant, nursing, or have any serious health conditions.
     In the last blog we talked a little bit about the energy of an herb-whether it was a warming or cooling herb. Another factor to consider in choosing an herb goes back to taste. If the herb is sour or pungent it can be astringent in nature. An astringent is something that contracts and dries tissues. This is great if you have a need for that in things like running noses or open wounds. If you are already experiencing tissues that are dry and in need of moisture this will only aggravate the problem. You could add a moisturizing herb (usually these are warm and sweet in nature) to the first herb, because you want the other properties that first herb has to offer minus the astringent nature. Or you could choose another herb all together that helped addressed the issue and wasn't astringent. This is why a one size fits all approach to herbalism isn't recommended. 
     There are many beneficial herbs in the world and they can help to aid in your overall health and wellness when all factors are considered. Hope this helps explain a little more about the wonderful world of herbs. Now on to some herbs that begin with the letter P.
Western Herb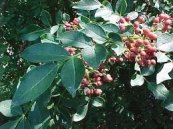 Prickly Ash

( Zanthoxylum Americanum)

 


Parts Used:  Bark and berries

 


Energy and Taste:  Spicy, warm and diffusing

 


Constituents: Alkaloids, fagarine, coumarins, resin, tannins, volatile oils

 


Internal Uses: Sluggish circulation, arthritis and rheumatic conditions, stimulates blood and lymphatic circulation so good for skin issues as well. Can create a sense of heat in the stomach due to its warming nature. Take ½ oz. of powder in pills or tea 3 x a day.

 


Topical Uses: Helps to heal wounds and relieve toothaches when applied topically. Can apply as a poultice or powder.

 


 





Peony(Shao Yao)

 

Paeonia Lactiflora

 

Parts Used: Root




Energy and Taste: Slightly cold, bitter and acrid

 


Constituents: Astragalin, benzoic acid, calcium, copper, galic acid, glucose, linoleic acid, magnesium, poeoniflorin, paeonol, potassium, tannins, zinc.

 


Internal Uses: Fevers, colds, nervous disorders, blood purifier, good for skin issues, menstrual syndromes. Take 5-10 grams as a tea or capsule.

 


 





Poppy (Papaver somniferum)

 

Ayurveda Name: Ahiphena

 


Parts Used: Seeds

 


Energy and Taste: Pungent, astringent, sweet and heating




Constituents:   Oleic and linoleic acids, thiamin, pantothenic acid, pyridoxine, riboflavin, niacin, folic acid, iron, copper, calcium, potassium, manganese, zinc, magnesium, opium alkaloids, papaverine.

 


Internal Uses: Poppy seed is a warming sleep aid taken a half hour before bed as a tea (4 TBS of seeds brewed) Can also be helpful for diarrhea, nerve pain, and coughs. 250 mg to 1 gram daily as powder or in food.

 


 


Hope any of this information was helpful. Check back for the next blog on helpful herbs that begin with the letter R.

 


 


Resources

The Way of Ayurvedic Herbs: A Contemporary Introduction and Useful Manual for the World's Oldest Healing System, Karta Purkh Singh Khalsa and Michael Tierra

 


The Way of Chinese Herbs, Michael Tierra

 





The Way of Herbs: Fully Updated with the Latest Developments in Herbal Science, Michael Tierra

Categories: Health and Wellness, Skin Health-inside and out

0

/